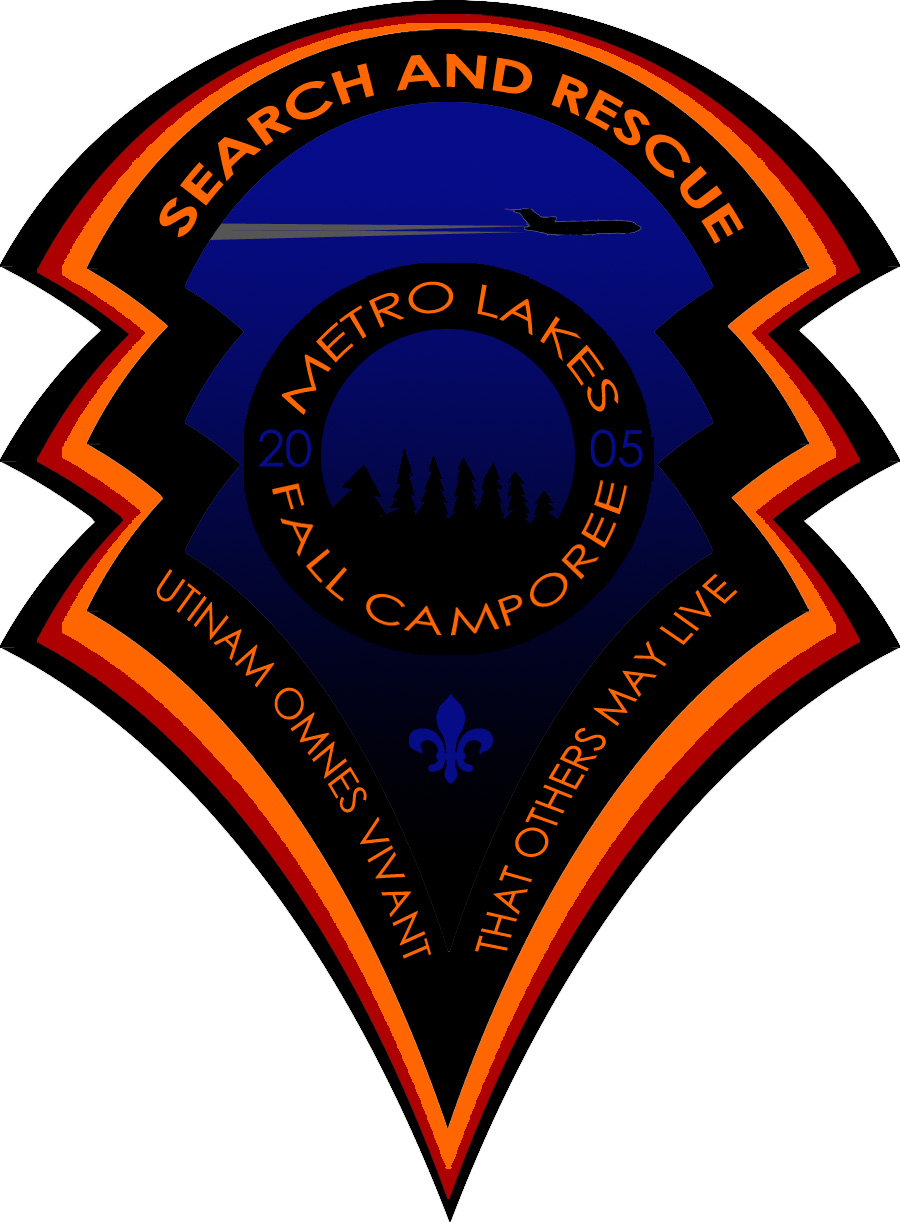 Search and Rescue II
Metro Lakes District 2005 Fall Camporee
Sept 23-25
For this event I tried to duplicate the Search and Rescue Camporee that I had done back in 2000. Since I had decided that I was going to be hanging up my hat after 9 years of doing this I wanted to go out with a really awesome event, and this was it. Weather, both local and in the gulf, played a big factor in the event but it was still a great day.
To start things off I trucked in 3 trailer loads of airplane debris. It is actually scary how easy it is to find aircraft salvage yards full of plane debris from crashes where you can be sure no one walked away from. This time I wanted to get a slightly bigger plane than I had last time so I drove up to a firefighting college in Duluth, MN to borrow a 8 passenger business plane that they use to train on. It went over much better than the one last time since it was slightly more believable to have lots of victims in it. We also had a beat up fuselage from a little 2 seater plane, pretending we had a mid air collision.
We had as many of our district's 2nd year Webelos as we could get come in to be victims for the event. We also had parents as well since it wouldn't be very realistic to have a whole plane load of 10 year olds, and no adults. We then got 2 Fire & Rescue Explorer posts to come in and apply VERY graphic injuries to the victims. Some of them were so graphic that we had 2 Webelos get sick from it. While that was unfortunate for them, it meant that the Explorers were doing a very good job.
We then put all of our victims around the crash site and turned the Scouts loose on them. The general scenario was that there was a plane crash in the BWCA, and your Troop just happens to be paddling by when it happens. Since there aren't that many fire departments in the BWCA, but there are lots of Scouts there, it's up to the BSA to save the day!
We also had the Minneapolis CERT team (sorry, I can't remember what the CERT acronym stands for), come out and do a hands on demo of how to put out fires with a fire extinguisher. Lots of Scouts and Webelos got a chance to actually do it. We also filled a lodge full of smoke and went through a drill on what you do if you wake up in the middle of the night and the house is full of smoke (we kept the smoke out of the bedroom). We went though the whole check the door to see if it's hot, stay low to the floor, and all of that. The smoke we THICK in there. You couldn't see anything in the rooms.
Just to round things out we had the Anoka County Water Patrol on hand with their search and rescue equipment. They brought a trailer load of stuff and boys got to try things on, as well as learn about how water rescues are done.
And if all of that wasn't enough, we had the Salvation Army on site helping us feed all of the rescue workers, the victims, the Sheriff's dept, etc. We also put out the red kettles to raise money for Hurricane Katrina relief and wound up collecting $285 from Scouts. Much more than I expected.
Pictures (Please bear in mind that these are pictures from my Troop, not from an event perspective)
What went good:
The make up artists (the fire rescue explorer posts) did a FANTASTIC job!!! I only posted a couple of the pictures of the horrific injuries we had, and there were many, many more. I received much feedback from Scoutmasters telling me that the realism made a huge difference in how much attention their Scouts paid to the exercise.
The props worked out excellent this time. I brought in 3 trailer loads of debris, including an 8 passenger business plane fuselage that was the centerpiece to the whole event. It is actually scary how easy it is to find this kind of stuff. I was able to locate 4 different aircraft salvage years within an hour drive of Minneapolis. I must admit I had to drive 2.5 hours to Duluth, MN to get the 8 passenger fuselage from a firefighting college, but it was worth it.
The support I got from the agencies that showed up was excellent. North Memorial Ambulance sent the helicopter, which was a huge hit. The City of Ramsey (which is where the camp is located), had an officer helping out, even though the city was recovering from a HUGE storm that almost caused the whole event to be cancelled. The same went for the Anoka County sheriff's water patrol personnel. One of them told me he had bad damage to his house, and he still came out to help us out. The Salvation Army's help was invaluable, I was so stressed with other things I didn't want to deal with trying to cook lunch for 125 people. There were others as well, and unfortunately too many to list.
What went not so good:
Well as usual, my timing stunk. When Hurricane Katrina hit it ended up sucking a lot of the resources I was counting on down south. The Red Cross, Coast Guard, MN National Guard, and others ended up bowing out of the event at the last moment as more and more of their stuff was sent south. It had a big impact on the event, but thankfully I was able to work around most of it and the boys never noticed.
And of course, the rain did not help things at all. Thankfully it only rained for an hour or so in the morning, but that was enough to make things very annoying at that time. We had sheets of plastic for the victims to lie on/under, but most of them ended up cold and wet before too long. Thankfully things dried out in the afternoon. The rain did cause the MN State Patrol to cancel their demo of firemen rappelling off of the helicopter, which was really too bad.
The Public Relations aspect stunk! We had did the whole media release thing (and had people who knew what they were doing do it), and supposedly had interest from a couple major outlets. We ended up with one TV station showing up at 3:45pm wondering where all the action was. Unfortunately all of the action had ended 45 minutes earlier. We ended up grabbing a couple of Webelos who were walking by and quickly having them put out fires with the extinguishers. We ended up with maybe 10 seconds of airtime that night on the news. The only good thing about that was one of the boys was my nephew :-). Now maybe my mom won't be so unhappy when I miss family stuff because of scouting events :-).
We ended up with a much lower turnout of Webelos than I had had when I did this 5 years ago. Then I had 126 victims total, enough to split it up where half were victims in the morning, and half were victims in the afternoon. This time I ended up with only 50 victims total, and the only reason I only got that many was because the fire rescue explorer posts brought their younger brothers and sisters, (who all had a GREAT TIME). That's the reason some of the victims look a little young in the pictures. I had called EVERY cubmaster, den leader, etc in the district a couple of times. I had handed stuff out and went to every roundtable. On and on I worked trying to get cub packs to attend this event. With all of the work I put into recruiting them I never could figure out why so few showed up. The ones who did thought it was the greatest thing they had ever done in cubs (that's a quote from one of them).