It's Wreath Time again!!
Troop 33 only does one fund raising event each year, and that's selling wreaths, (and other miscellaneous holiday items). We depend on the money raised from this sale for all of our activities. Things such as paying camping fees at State Parks, to buying badges and rank awards, to helping fund June Trips to Glacier National Park and more!
If you live in the Twin Cities area and would like to purchase a wreath from us please send an email with your order to mclaught@visi.com. There is no money due until delivery, and we will deliver the order right to your door (restrictions apply of course). Please be aware that with the cost of gas driving from downtown Minneapolis to an outer suburb to deliver one $15 wreath probably will not not happen.
Please include exactly what you would like to order, your home address, and your phone number. Your order will be confirmed via email within a day or two. If for some reason you do not hear back from us please call (612) 845-3062. Unfortunately email is not always 100% reliable :-(.
The following is what we have for sale this year, and the prices for each: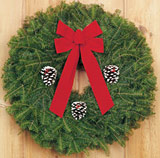 25 inch wreath - $16 (shown on left)
36 inch wreath - $30
48 inch wreath - $50
60 inch wreath - $70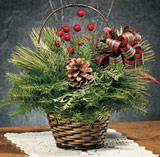 Table Centerpiece - $25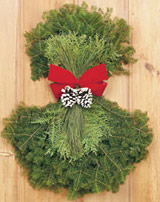 24 inch Swag - $16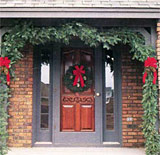 25 foot Garland - $27
50 foot Garland - $54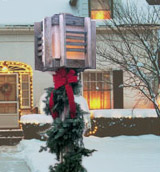 This is just another example of what some people use the garlands for.
If you would like to place a custom order, whether it is for a special item not listed here, or for a REALLY big wreath, or maybe even for some kind of bulk order, please feel free to let us know. We would be happy to work with you on it.
Thanks again from all of the Scouts in Troop 33 for your support! Please feel free to check out our Scrapbook and see the kinds of things that your support helps us do.