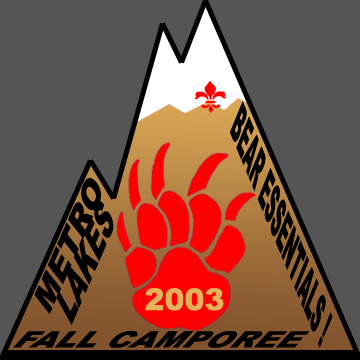 Fall 2003 Camporee
Metro Lakes District
Rum River Campgrounds
September 19, 20, 21
For this Camporee I decided to go back to the basics. I had a bunch of stuff going on with my Troop as well as work so I decided to take it easy and go with a nice, straightforward Camporee. You can see from the event flyer that we stuck with knot tying, first aid, tripod building, map & compass, and some fun stuff. Basically the "Bear Essentials" of Scouting.
Pictures - Pictures of my Troop but it will give you an idea of what happened.
What went good:
Almost everything worked very smoothly. Since this was a repeat of the first Camporee I had ever done I was a little more experienced and that definitely showed. The big hit to the day of course was the Bucket Brigade Obstacle Course. The boys loved running through the course carrying glasses of water, getting wet and muddy while doing so. The rest of the events all went very smoothly and I had nothing to stress out about :-).
What went no so good:
Not a thing that I can think off.