A History of Troop 33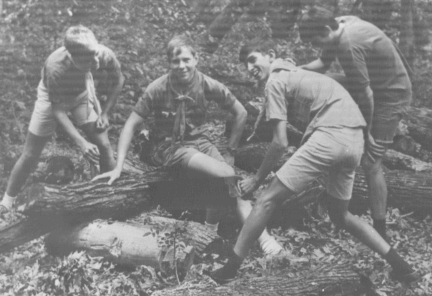 The Years 1918 - 1965
by Ty Lilja
Troop 33 Scout
Eagle Project
1998
Dedication
To my grandfather Ted Carlsen,
for suggesting the idea and for being a living embodiment of Scouting and its principles in my life.
Introduction
"The challenges and responsibilities were strengthening; the training and experiences irreplaceable; the good times wonderful. But there is something more. I do not know how to describe it. It added a rich dimension to my life that made a huge difference. I am very grateful to the leaders who donated large amounts of their time to make it possible.

"There are many small memory jewels such as first hearing a loon, first building a fire from sticks, first sitting on wooden benches in the lodge during a summer storm watching skits, first sharpening an ax, first building a tower with logs and ropes in competition with another Troop. The list goes on. I am sure you have your own list."
-G. Leonard Kane, 1940s Scout
It is not often that the history of any particular Boy Scout Troop is written down. Perhaps that is because many Troops have been founded only recently while other older Troops have died out, unable to stand the test of time. Another reason, however, may be that so little has changed over time. Many of the people I talked to remembered Scouting being a fun and rewarding experience that helped and guided them in life. When asked for a specific experience that changed them they honestly couldn't really tell me what it was about Scouting in particular that changed them. They supposed that it had probably provided leadership skills but they really still couldn't tell me exactly what it was.
After five years in Troop 33 I feel the same way. Scouting has left me much different than it found me and I can't really explain how it did it. I only know that in some way I now feel much more comfortable in the world and more able to face its challenges; I have learned things in Scouting that I know cannot be learned anywhere else; and it has changed my life.
For 80 years Troop 33 has changed boys into men, and by being eternally at the center of this transition period it's changes over time are a reflection of America itself. The story of Troop 33 is one of fond memories of those who were in it during nearly every decade of the twentieth century. Former Scouts have shared with me memories of friends, challenges, disasters, growing experiences, the end of childhood, and reflections on the pulse of American culture at the time.
The history which I now present to you is based on a series of interviews conducted by myself and other Scouts, as well as written surveys, in an attempt to document the history of our fabulous Troop. It's my hope that our Troop is not lost with time but that the memories of happy times and the fire of the spirit of Scouting may burn ever brighter in our hearts and consciousness' not being extinguished with the passing of time.
As a Scout of the 90's speaking to those who came before, I wish you clear nights, reliable cars and buses, fully cooked food, good friends, and good reading!
-Ty Lilja